Computers and Printers

ZCorp Z402C Rapid Prototyping Printer
Used for the printing of 3 dimensional models from stacked image files from our Zeiss LSM-510META, MRI data, or other forms of stacked data sets (ie Crystallography). Can print in both color and monochrome. Models are powder based and are infiltrated with cyanoacrylate for durability.
3D Deconvolution Workstation
Available to our users for the purpose of deconvolution on stacked image files. These files are acquired from imaging facility microscopes or from the analysis of volumetric data sets. Consists of a Dual Xeon 3D workstation with dual 20″ flat-CRT monitors with gigabit access to the data servers.
Click here to check for availability or to make a reservation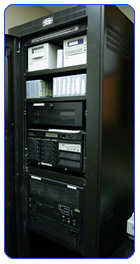 3D Denconvolution 1.6TB Data Server
Used by Imaging Facility personnel for deconvolution of our user's data. Remote access available through OMRF's LAN. Consists of a Dual 2.4GHz Xeon and 4GB RAM for the fastest deconvolutions possible. Includes a 1.6TB drive array to store the large deconvolved data sets.
Dual Xeon 500GB Data Server
Our general purpose OMRF Imaging Core data server. Available to OMRF, OUHSC, and VA users to store their imaging data. Server is accessible from anywhere on the OU or OUHSC campus. Data is backed up nightly and spanns over 2 months for archival purposes. The entire server array is protected for power outages of up to 6 hours.
Equipment Calendar Server
Our Debian Linux calendar server is used for reservations and appointments for all facility equipment including wet lab and microscopy equipment.
Click here to check for calendar access

Analysis Workstation
Used for general purpose analysis of LSM and Axioplan images, scalings, etc. Use is on a first come, first serve basis. Located in MC109.5, adjacent to the microscope room.

Fujix Pictrography 3000 Ultra-High Resolution Printer
The Pictrography 3000 is a photo-lab quality thermal printer that uses a Silver-Halide photographic process.